Welcome to the Ghost Pepper Cheese Discovery Adventure!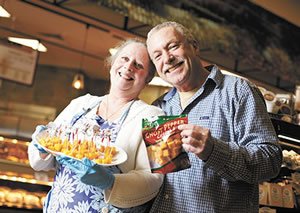 Our Cheesecrafters have used their years of experience and commitment to excellence to bring you a unique flavor and quality to our cheese products. Always Fresh and Natural.
Northwest Cheesecrafters is a big name for a small company, but we have a big dream and great strong roots. Our dream is to spread Ghost Pepper Cheese Bites across the United States. Our roots are the inspiration and expertise that came from the WSU Creamery, and the years that NWCheesecrafters has supplied local supermarkets and specialty stores. For many months we have been the top selling deli cheese at a number of major grocery stores, and that's pretty good for a little company in the big boy marketplace.
Now we are going online. We are adding two new snack flavors to complete the Ghost Pepper hotness range. There is now a spice level that will suit nearly everyone.
To begin your Ghost Pepper Cheese Bite Discovery Adventure please scroll down or go directly to our sales page, order something, and enjoy.
Also, please send us pictures, recipes, and stories. This will be an adventure for all of us.
For more information on the peppers used in our cheese see this article in the Inlander: A Cheese of their Own.